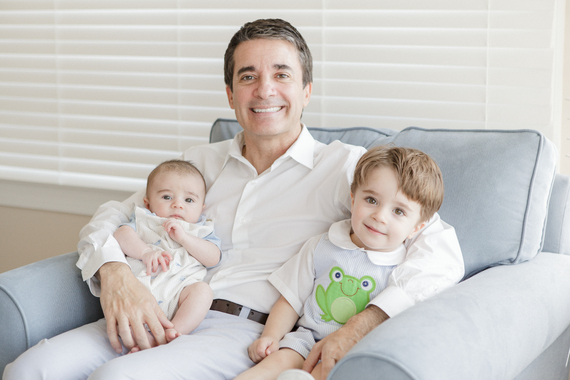 "The only thing that changes your life more than one baby is two babies." That's what a good friend remarked to me about 6 months ago, before the birth of my second child. I looked at him with some bewilderment, because being the father of an active two year old, I felt I had become pretty good at multitasking. So how much harder could having one more bundle of joy be? I finally was getting sleep, and even managed to get to the gym a couple times a week. I was getting into a routine, so adding another baby couldn't be twice as hard, could it? Well, I quickly learned that having two small children is a major life-changer!
Here's what I learned:
1. Don't get overconfident. Even by Day 2 after the birth of my second child, I was feeling pretty good about my added responsibilities. But then I quickly was reminded that by Day 3, newborns start to wake up a lot at night, and their demand to be fed must be met — no matter what hour day or night. And I understood that, but I didn't always recognize that the other child still needs a lot of attention, and early on with a second child, the older child doesn't like sharing attention. So it becomes impossible to spend as much time as I would like with each of them. No work experience — not even a grueling medical internship — prepares you for this. Hubris quickly becomes the enemy.
2. Forget about sleep — at least for the near future. As a physician, I know about the importance of sleep, so my new strategy is to get sleep whenever I can. I remember reading in those books for new parents "to sleep when the baby sleeps." I didn't think that applied to me. But now I do it. So at 2pm on the weekends when both my children are sleeping, I'm taking a nap too! Sure, I'd like doing other things with my weekend time, but I'm banking up on sleep nowadays. And don't try to text or email me after 9 pm on weekdays cause I am already in my pajamas and ready for sleep!
3. It's all about teamwork. Coordinating with your spouse is key! My wife and I have learned to be in-sync for nearly every activity during the day — especially in the morning, getting ready for work. If you think getting ready with one kid is hard, two small kids is chaos! With two kids, at least we can have a 1:1 defense. I have no idea how we would manage three — we could probably have to move to a zone strategy! We have had to plan with military precision in terms of timing of showers, meals, leaving to/from work, and any evening plans. I have enormous admiration for single parents, knowing how hard it is for two parents.
4. Free time is a precious commodity. A work colleague asked me the other day what movies I had seen this summer. Really?! Movies? I can't remember the last time I went to a theatre. And as for television (an area I worked in for nearly a decade), I have no idea what shows are on nowadays. Unless it's Doc McStuffin or Little Einsteins, it doesn't get much play in our house. If I'm fairly adventurous, I might get my son to watch Dora the Explorer. But as for House of Cards, it's not in the cards for me to watch any time soon.
Yes, my friend was right that your second child changes your life even more than the first. And indeed I have had to recalibrate everything. But I wouldn't trade it for the world.
— This feed and its contents are the property of The Huffington Post, and use is subject to our terms. It may be used for personal consumption, but may not be distributed on a website.