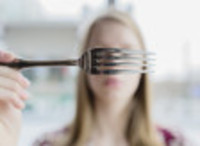 We all know counting calories is a valuable tool in losing weight. But do you know that counting compliments could be just as valuable? Studies indicate that simple, direct, specific compliments can have a profound impact on a person's self image — especially among adolescent girls.
To understand the impact of compliments, one study followed college-aged women in Canada who had expressed concerns about their weight. The study then divided the women into two groups: Those who received positive feedback from friends and family about their concerns, and those who got negative feedback.
Those who received compliments either didn't gain — and in some cases lost — weight over the span of nine months. Those who got negative feedback actually ended up gaining weight. This dynamic starts at a young age. We know that teen years are difficult, especially for girls, when it comes to issues of weight.
One study found an incredible 80 percent of 10-year-olds are afraid of being fat. By high school, just 29 percent of girls said they feel "happy the way I am" with research indicating low self-esteem can easily become self-perpetuating. Clearly, there's a big compliment gap that we need to fill.
As with the women in the Canadian study, girls who get more negative feedback are more likely to end up with weight problems. Research has found, for example, that young girls who feel the need to diet because of poor self image often end up gaining more weight later on than those who don't. And, this pains those of us who work in an industry designed to transform lives, people who feel stigmatized because of their weight are more than twice as likely to become obese — regardless of what their actual weight was when they felt that stigma.
Girls who don't hear enough compliments and develop a poor self-image are far more likely to engage in other unhealthy behaviors as well. Imagine how different their lives would be if they heard more compliments than put downs, from friends and family.
But the problem is deeper than that. We get so few authentic compliments these days that, while they stand out as memorable events, we often don't know how to receive them.
That was the finding in a Harris poll Nutrisystem commissioned to get a better understanding of the importance of compliments. Specifically, it found more than 80 percent of women remember the last time they received a compliment, but nearly 40 percent of them said they find it difficult to accept the compliments they receive. It's sobering that we hear and are conditioned to be impacted by negative feedback more than positive.
What this suggests is that we don't just need to be giving more compliments. We need to be careful in how they're worded and how we back them up.
I know this first-hand as a manager and a mother. Guy Winch, writing in Psychology Today, explained it well — "asking people with low self-esteem to reframe a compliment (and) discuss what it meant to them…allowed them to accept the compliment and feel more positively about themselves." In other words, the pitch went from falling on deaf ears to finally being heard and embraced.
There are a few other good compliment rules to follow if you want to make the most of your efforts to increase the global supply of positive feedback.
For starters: Be specific. Saying "you're awesome," isn't the same as saying "the party you hosted was wonderful in every respect from the opening toast to the thoughtful goodie bags." The first is less meaningful than the second, because the more specific the compliment, the more thought the person making it had to put into it.
Related to this is authenticity. Everyone can detect the difference between gratuitous flattery and a bona fide compliment. The world doesn't need more insincere flattery; we need genuine, veritable compliments.
Last rule: Resolve to offer at least one, heartfelt compliment to someone every day. And when you receive one, try your best to #NowBelieveIt.
— This feed and its contents are the property of The Huffington Post, and use is subject to our terms. It may be used for personal consumption, but may not be distributed on a website.