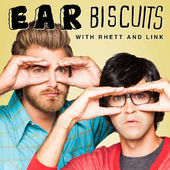 The new media landscape can be a confounding place, with new apps and ways to reach people constantly emerging, shifting, and changing. Who's keeping track of the players making a difference? "Internetainers" Rhett and Link (Rhett McLaughlin and Charles "Link" Neal), and their Ear Biscuits podcast, that's who.
The hosts are new media heavyweights in their own right — their well-known YouTubery has garnered over 455 million views — so it's fitting that they usher in others for us to meet. This week it's Andrew Bachelor, AKA @KingBach, an actor and comedian best known for his Vines.
With almost 13 million followers, his self-produced "vidiettes" are legend, ranging from shamelessly goofy to politically poignant. Hollywood's awareness of him is ridiculously high, which has resulted in him getting steady acting work, including developing a new TV show produced by Key and Peele.
Bach is smart and savvy – he comes from a family of accountants – and funny to boot. Hearing him share his story of using new media to leverage his way into the still more lucrative old media is worthy of a movie all its own. Or at least a Periscope.
—
Podcasts I'm also listening to this week: Chillpak Hollywood Hour #428; and The Beef And Dairy Network Podcast: Episode 1 – Dr. David Pin
—
The Ear Biscuits review and other podcasts mentioned originally posted as part of This Week In Comedy Podcasts on Splitsider.com.
Marc Hershon is the host and executive producer of Succotash, The Comedy Podcast Podcast, featuring clips from comedy podcasts from across the Internet as well as interviews with podcasters, comedians, and assorted show biz folk.
— This feed and its contents are the property of The Huffington Post, and use is subject to our terms. It may be used for personal consumption, but may not be distributed on a website.