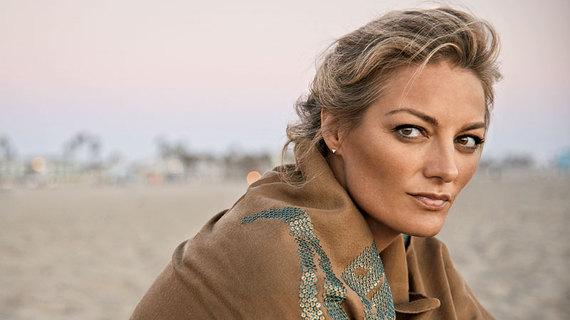 Being released this week is a new documentary from intrepid filmmaker Lucy Walker about confronting one of life's most daunting moments.
Breakthroughs in modern science allows us the ability to take a peek under our genetic "hoods" at minimal cost and with unprecedented speed. Services like 23andMe allow any consumer to explore their gene profile, which could be empowering or frightening depending on your perspective and family history. This data, when used in the clinic, provides physicians incredible tools in the quest to practice fully personalized medicine.
Our genes provide the blueprint for our individuation, and come replete with a mixed bag of advantages and potential disadvantages–a natural person-to-person variation which was essential to driving our species forward by way of natural selection. Today, being tethered to negative health outcomes, especially when we can see these risks decades before their potential emergence, are inconvenient (to say the least) in a time when overcoming our biological limitations seems to be as natural as genes themselves.
For many, genes are not destiny, but for some, the genetic risks present high enough odds to elicit serious life questions. For others, genes do determine certain health outcomes. One such disease with a determinant gene is Huntington's Disease. Many describe having Huntington's Disease as having ALS, Parkinson's and Alzheimer's all at the same time. Today, there are approximately 30,000 symptomatic Americans and more than 200,000 at-risk of inheriting the disease.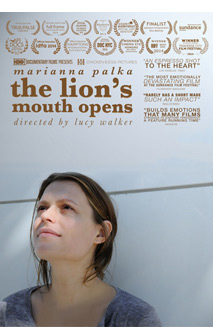 In The Lion's Mouth Opens, young filmmaker-actress Marianna Palka gathers her friends around her as she finds out whether she has inherited this fate, an incurable degenerative disorder which took her father and now has a 50% chance of taking her body and her mind.
I couldn't wait to ask my friend Lucy Walker about her experience documenting this harrowing journey, her thoughts on genetic testing, and how to get involved with Marianna's story.
What drew you to Marianna's story?
It was Marianna's idea to make a film about her journey of being tested for Huntington's Disease and she'd seen my documentaries and so she reached out to me. She wanted to shine a light on the disease and on the testing process as a project to help the Huntington's Disease Society of America. I hadn't heard of the disease so I had to google it, and I was extremely moved by what I learned. I instantly wanted to help Marianna and so I agreed. I found Marianna so compelling and charming I knew she'd make a riveting documentary subject and if you watch the film you'll agree, it's impossible to take your eyes off her. Everyone who watches the film falls in love with her and her beautiful, hilarious spiritedness.
Some people would "rather not know" their genetic risk factors for awful diseases. What do you say to those people?
I'd say I completely respect everyone's decisions and there are excellent reasons to get tested and there are excellent reasons not to get tested. It's a completely personal decision about whether or not to find out about what fates our genes might hold. Neither I nor Marianna would recommend that people undergo testing unless they are 100% sure they want to know, because there's no way to go back to not knowing if you don't like the result. I don't have Hungtington's in my family so I'll never know what I would do in Marianna's shoes, but personally I've elected to go through genetic testing both 23andme more for personal curiosity and also some other doctor-administered tests for some other serious conditions, so I suspect I might be inclined to get tested, even for Huntington's, which I believe is the most daunting test of all because at this point there is no cure and it is perhaps the most daunting prognosis imaginable. What we can be sure about is that more and more people are facing this question as so many more gene tests are becoming available, and so the film is close to home for a lot of people.
In The Crash Reel and in The Lions Mouth Opens, you're filming some of the most tragic moments in the lives of your subjects–in the former, traumatic brain injury, in the latter, a horrific neurodegenerative disease. How do you prepare and does it take a toll on you?
I feel so lucky to be working with such inspirational, courageous, profoundly awesome people as Marianna Palka in The Lion's Mouth Opens and Kevin Pearce in The Crash Reel. Honestly I feel like it is a gift to be near them as they tackle some of life's most confronting twists and turns. I've faced down some daunting moments in my own life where I encourage myself by consciously thinking "what would Marianna do" and channeling her spirit. As Jason says in the movie, she doesn't "let something as simple as fear stop her from doing anything". Wow.
Is health generally a topic you're interested in? Why?
I'm obsessed with health and doing what I can to be healthy and active for as long as I can. I took care of my mother when she had cancer and I lost both my parents when they were young and I feel completely motivated to do what i can to take good care of myself. I also just feel better when I exercise daily, sleep sufficiently, meditate, don't eat sugar, etc. It's also fascinating to me how much we are learning these days, there are so many breakthroughs I'm thrilled by the new information. I'm also fascinated by how intelligent our bodies are, and how our body intelligence works -and how modern life can sometimes undermine it, so it's important that we understand what's going on and avoid the pitfalls of such modern health hazards as lights at night, plastic containers, antibiotic overuse, sugary foods, etc.
How can we best help those suffering with Huntington's Disease?
Tune into our film The Lion's Mouth Opens on HBO, premiering June 1st 9pm/8c and thereafter on HBOGo and HBONow – that's the one step that we'd love for everyone to take! Huntington's Disease is less well known than it should be considering that it affects 1 in 10,000 Americans. This is because it only runs in families – unlike say cancer or HIV, it can't be acquired by anybody unless they have a parent with it, so people haven't heard about it unless they have it in the family, and even then people often don't even talk about it because it's so frightening. The good news is that there is a lot of breakthrough research happening currently, and they have identified the gene and it's a single gene (so you could say that Huntington's is a step closer to a cure than Parkinson's or Alzheimer's which are in the same family). And meantime the best way to help is to discuss it openly, so that people are better aware of it. Last year there was a heartbreaking news story of 5 cops arresting and beating up a man who had HD symptoms because they misunderstood his involuntary movements and thought he was resisting arrest. There is also a HD Parity Act that should be passed because people with HD need special protections from discrimination. Everyone in the HD community asks us to tell just one person about the disease so that the challenges faced by the community can be better understood and addressed.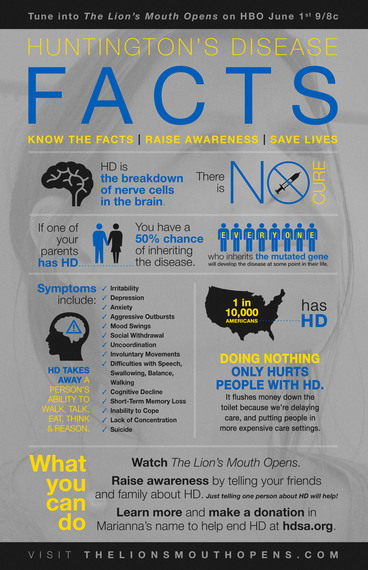 The Lion's Mouth Opens premiers on HBO June 1st 9pm/8c and can be found on HBOGo and HBONow.
— This feed and its contents are the property of The Huffington Post, and use is subject to our terms. It may be used for personal consumption, but may not be distributed on a website.