For leaders, there is a beckoning call to promote justice and freedom. Will you answer the call? Answering the call is the recognition that we lead to change the world. This is a simple but yet profound statement related to each individual's capacity to influence the world around them through the exercise of leadership. Leadership provides a vehicle to change the world day by day, moment by moment.
Change begins with the development of a collective vision of the future. Leaders inspire others to envision a world where justice and freedom reign supreme. This is a vision of fostering a global community that promotes love, justice, equity, and compassion.
Imagine a world- where no person goes to bed hungry, the spread of HIV/AIDS is eliminated and every child has access to primary education (U.N. Millennium Development Goals). This is a world where each individual can reach their full potential. A world where each person is empowered to cultivate one's gifts and talents. Leaders recognize that we must move beyond imagining a new world to creating it. This a manifestation of our shared destiny and collective power.
In spring 2015, I launched the Leadership for Social Justice Project with the goal in mind of building a global leadership community. The #LeadershipforSocialJustice project challenges everyday people to discover the leader within, take a stand for justice, and serve in the global community. It also serves as an indispensable tool for bringing leaders together to share their passion for social justice and build strategic partnerships.
Dr. Mussa S. Muneja, professor at the University of Arusha, Tanzania, serves an exemplary model of a transformational leader who is committed to leading change. His coursework focuses on developing innovative solutions to address the pressing social justice issues of the 21st century. Dr. Muneja has joined the Leadership for Social Justice Project by challenging his students to lead change through the promotion of global development and community engagement. His students have committed to leading change through "progression, reinforcement, encouraging the democratic way, commitment, and innovation" to name a few. By making a commitment to lead change, each of Dr. Muneja's students are picking up the mantle of leadership and transforming the world.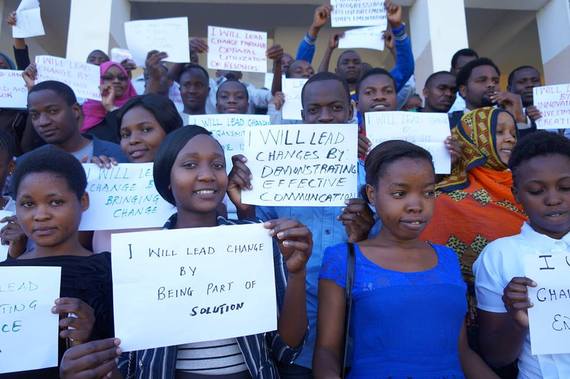 How will you lead change?
— This feed and its contents are the property of The Huffington Post, and use is subject to our terms. It may be used for personal consumption, but may not be distributed on a website.