If you want to see bears in the wild, you could do worse than take a little float plane from Homer across Alaska's Cook Inlet to remote Katmai National Park.
Famed for its large number of magnificent craggy volcanoes and its equally magnificent animal inhabitants, the fearsome, massive grizzlies, it was here that Disney shot its 2014 Bears documentary.
Thus it is on this first day of June that six of us are being kitted out with rubber hip boots on the shore of Homer's Beluga Lake, having forked out the enormous sum of $675 each for the eight-hour safari – not hunting since I'm not a dentist, just sighting.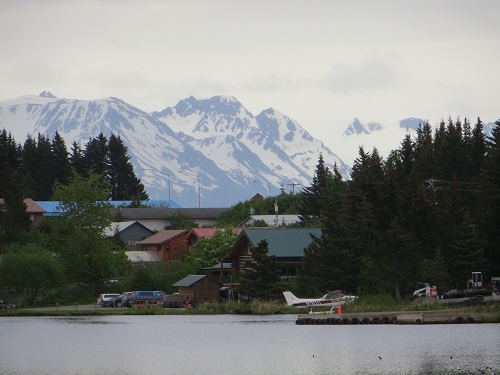 Float plane on Beluga Lake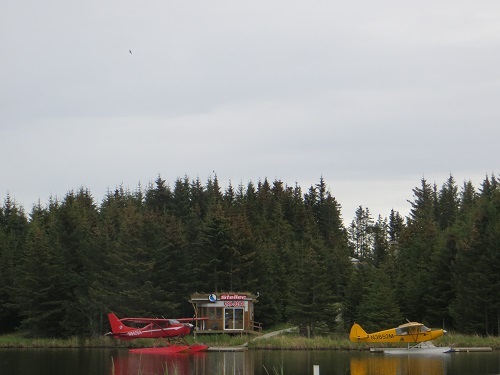 More float planes
There's a couple from Utah, their daughter and son-in-law, their seven-year-old grandson, and Yours Truly holding up the rear – plus pilot and guide.
'We've never been attacked in all the many tours we've run,' quoths the tour organiser.
'Well there's always a first,' quoths I. But it seems bears are so well fed on sedge grass and salmon at this time of year that they're not interested in human-meat, not their favourite food anyway – unless you get in between a mother and her cubs. And then you're done for.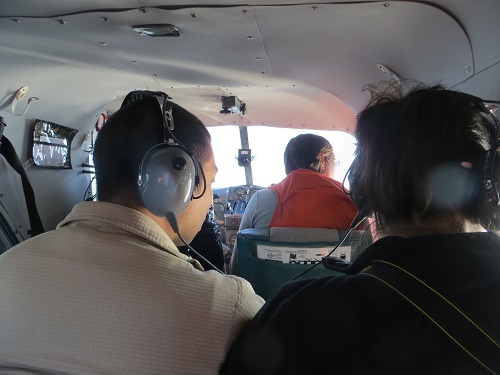 Inside a float plane
The weather again is perfect and the flight is superb with splendid views of Pacific Ring volcanoes, many of them active.
The glacier-covered crags of 10,016-foot Iliamna, which has been largely quiescent apart from steam plumes, loom jaggedly on the right. The snow-streaked cone of 4,134-foot Augustine, which sent showers of ash carpeting Homer in 2006, soars in front.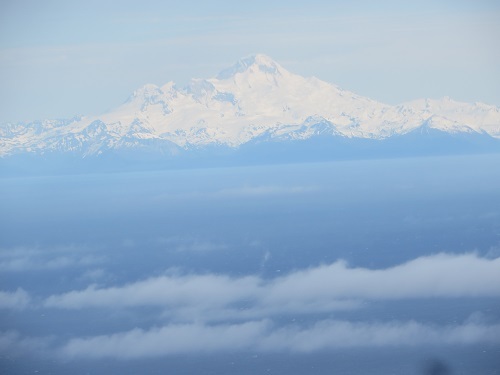 Iliamna from the plane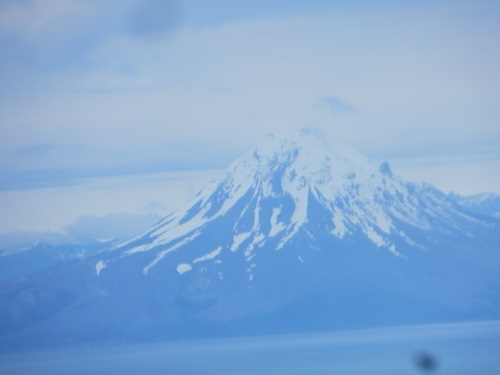 Augustine
And my fellow family bear-seeking quintet snores in their seats. They're wakened by the pilot on the intercom in time to see bears prowling and foraging below as we come into land on an inlet beneath the multi-spiked snow-covered pinnacles and glacier fields of 7,021-feet Mt. Douglas volcano.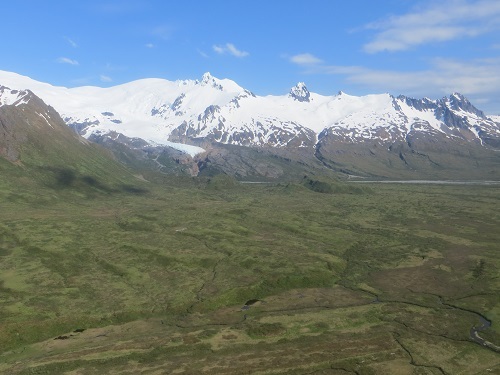 Mt. Douglas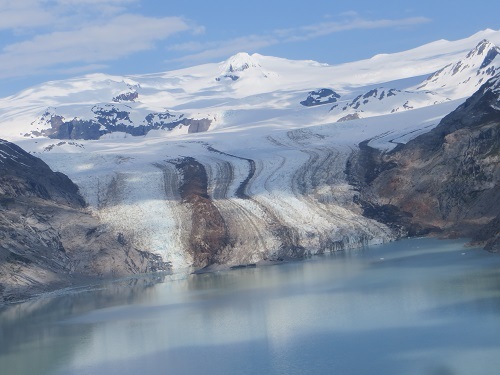 Glacier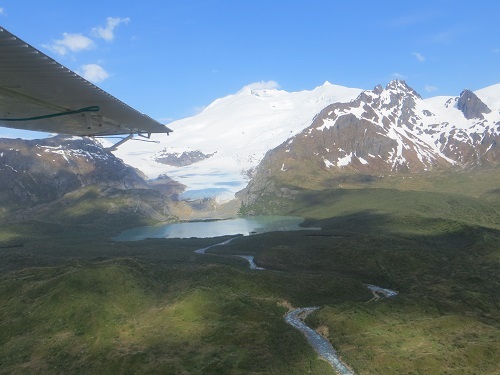 Coming in to land
Ah there, and there, and there, they shout excitedly – and I who have been awake the whole frigging flight sight absolutely zilch. Of course.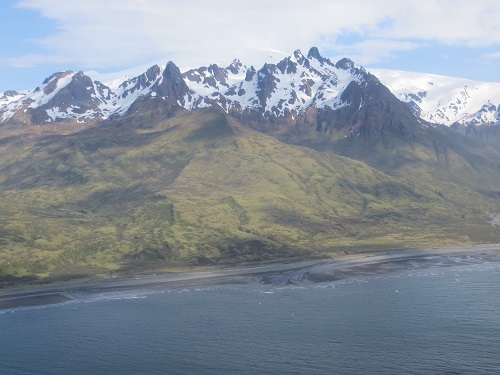 And I see zero grizzlies
There are two sites in Katmai for bear-watching – Brooks Falls in the centre, and the sedge grass flats of Katmai Bay along the coast. At the former you can see the iconic image of grizzlies snatching salmon jumping the falls. But that happens in late June and July and it's so crowded and organised that there are huge queues and you're restricted to an hour on the viewing platforms.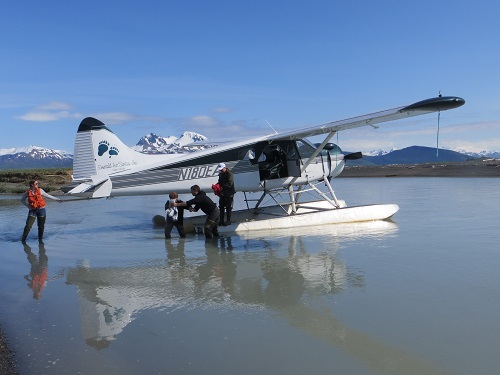 The eagle has landed
Along the coast you wander the sage-green and straw-coloured flats on foot with no particular viewing site, just you and the grizzlies you may come across in the wild as they browse and munch the succulent fresh spring roots. That's where we are today.
View along the coast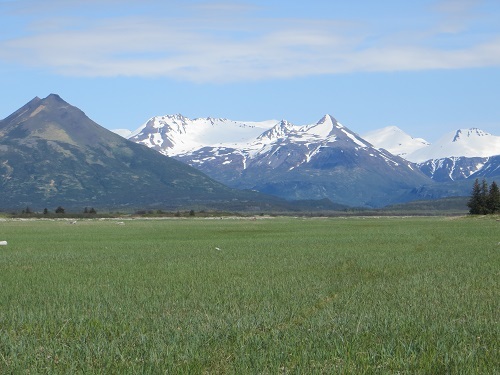 And inland
And, miracles of miracles, that's where I do sight a grizzly, way over on the horizon, an infinitesimal golden smudge properly visible only through the camera's zoom lens. That, I assume, is that.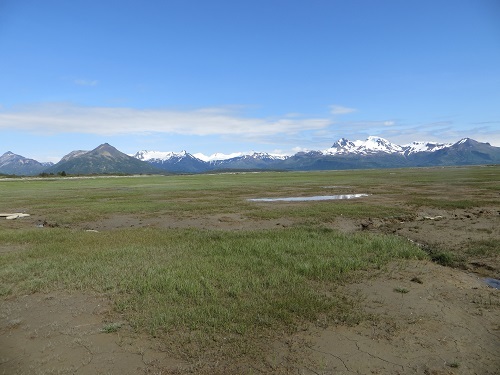 Believe me, there is a golden smudge in the centre just below the mountains
Zooming in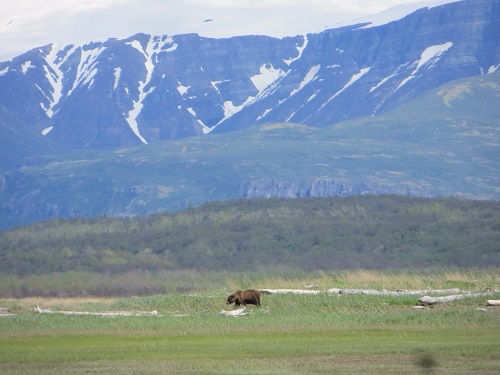 Zooming in more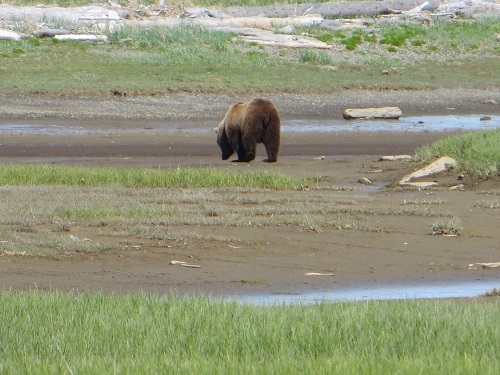 And more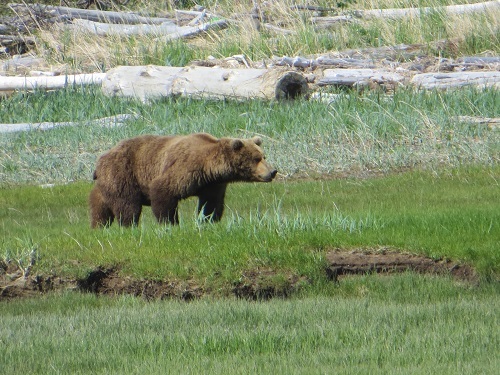 Yet more
But the pilot knows his stuff. We wander on past streams, along bear paths, with claw prints fresh in the mud.
Paw prints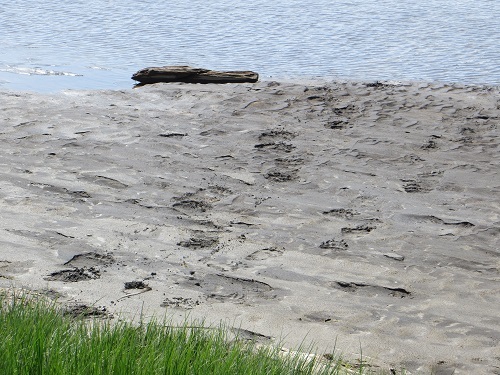 Another
We keep close together, ready to bunch so that the bear thinks we're one single creature larger than it. Just in case, I still manoeuvre the seven-year-old kid into the front as a propitiatory offering.
A grizzly appears relatively close on the right and continues on its path, looking at us but without paying any real attention. Another comes along, following the first until they disappear behind a ridge.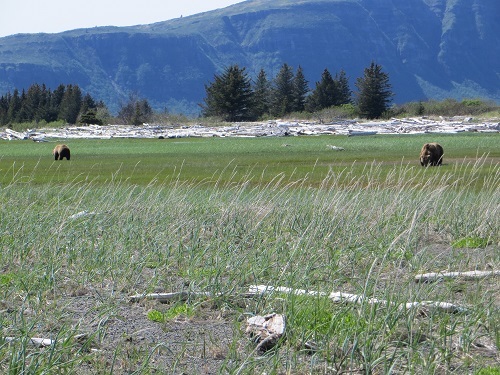 Two grizzlies
Another view
Apparently they're used to people wandering around and leave you alone if you respect their space. They're massive, often weighing in at 600 pounds and sometimes reaching 1,200 pounds.
One thing you don't do is call out 'Come here, kitty, kitty, kitty, or Bruin, or whatever.' You keep your voices down. They hate the unpredictable and can react aggressively to the unexpected.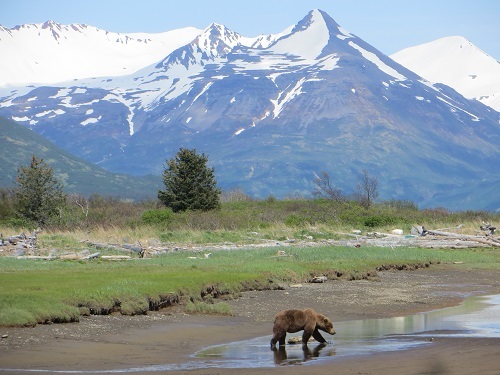 Crossing a stream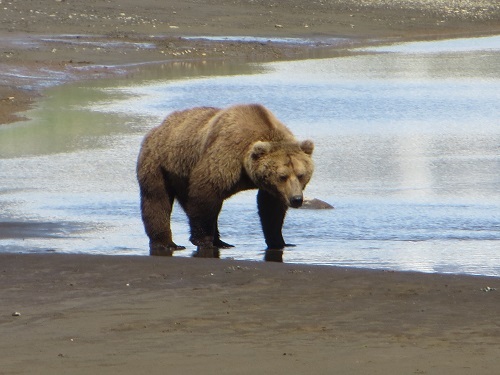 Zooming in
According to some, the difference between brown bears and the smaller black variety is that the latter will carry on eating you alive after first attacking you while the former will maul you, then leave you to die before returning to eat you – but not before first pissing all over you to mark you as theirs. Nice!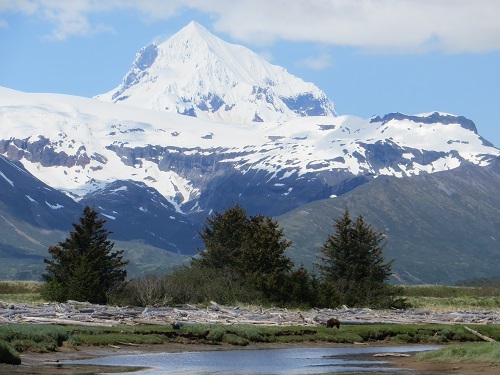 At a safe distance
Another point: don't attribute anthropomorphic sentimentality to the mother bear's devotion to her cubs, assiduously teaching them how to hunt and fiercely protecting them, especially against males who may kill and eat them, both for food and to get the mother mating again.
As soon as they're two to three years old she drives them away and ferociously curbs their attempts to return, with paw strikes, growls and bites.
Over here, Bruin
We wander around for four hours, crossing streams and tracks. In all we have close-up views of more than a dozen bears who despite their name 'brown' (brown bears and grizzlies are generally considered one and the same sub-species) come in a variety of hues, as do black bears.
One is snoozing prostrate only a few hundred feet away. It rolls over, feet in the air, then gets up.
Time for a snooze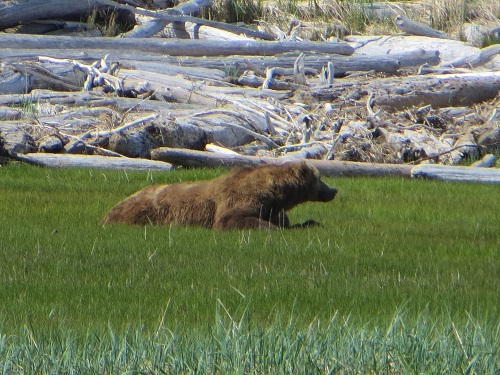 Stirring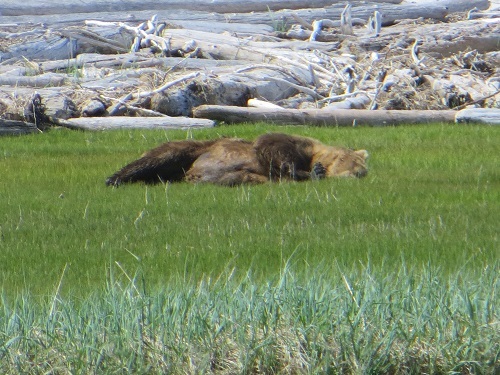 Time to start rolling
A blond female suddenly runs on from stage left, pursued by a much larger brown male. She stops and squats in a sign of submission. Then they're up and running again.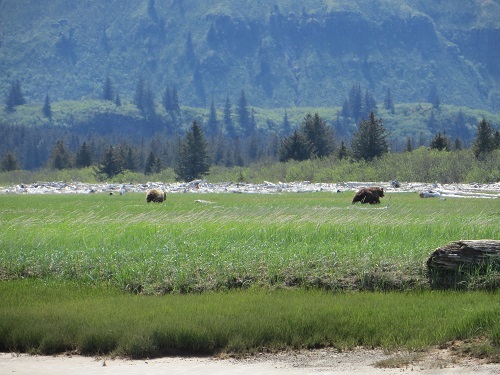 Female on left, male on right
An even larger brown male approaches from stage right. Now she's running with him. Oh 'La donna è mobile' indeed. The first male just wanders off. He can't be bothered.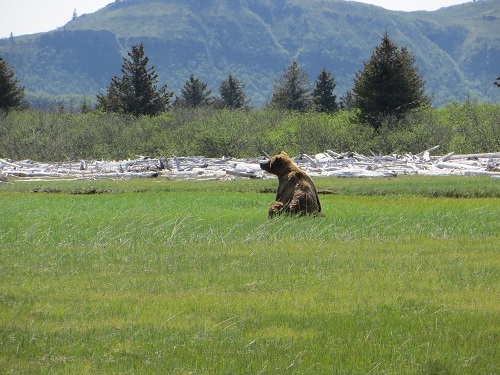 Can't be bothered
Another male crosses a stream, plops down in it for a cooler, then moves on. Yet another moves slowly by some drift wood.
I'm barely clicking away now. I've become quite blasé.
Why, I'm an old bear hand already.
[Upcoming blog on Thursday: Start of the trip to the Aleutian Islands]
A couple more shots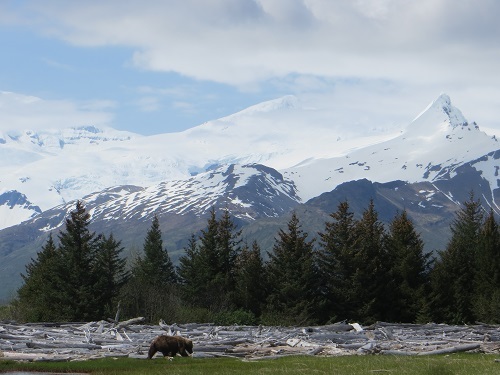 ______________
By the same author: Bussing The Amazon: On The Road With The Accidental Journalist, available with free excerpts on Kindle and in print version on Amazon.

Swimming With Fidel: The Toils Of An Accidental Journalist, available on Kindle, with free excerpts here, and in print version on Amazon in the U.S here.
— This feed and its contents are the property of The Huffington Post, and use is subject to our terms. It may be used for personal consumption, but may not be distributed on a website.