This is part of the Increased Productivity series where we explore the strategies and tools that will help you accomplish more on your business.
App usage has dramatically increased during the past three years, but it has also become much more difficult to determine which apps are actually worth your time. After all, with an estimated 1.6 million apps available for Apple products alone, it is easy to end up getting sucked in by time-wasters that do not actually provide any real value. Fortunately, it is still possible to find extremely helpful apps that can help you boost your productivity. You may also check out my post on Business Insider about 5 apps to help you manage your work on the road.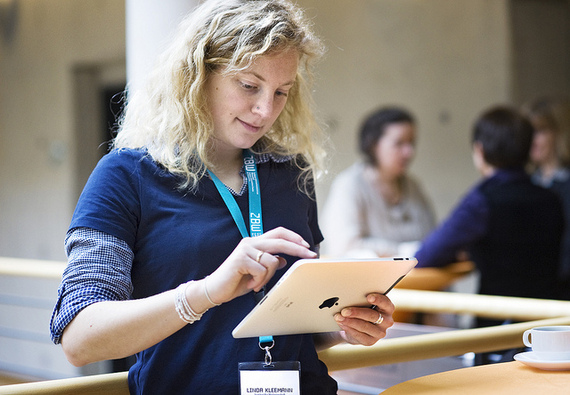 Image Credit: ZBW Leibniz-Informations
The following six apps are all good examples of how you can turn your continuously escalating app usage time into a positive, time-saving experience. At the end of the day, if you are going to dedicate an average of more than 37 minutes a month per app, you should definitely choose wisely before installing anything new to your smartphone or tablet.
1. Asana
Most businesses have a complicated structure for tracking work assignments that includes emails, calendars, meetings and memos. With Asana, you can restructure project management into one handheld solution. Asana is also available from your laptop or desktop, so everyone who is linked together through this app can stay in touch at all times. Perhaps the most useful aspect of Asana is its ability to keep everything that you need to focus on in one convenient location.
2. Cogniview
The Cognivew app, which can convert PDF to Excel, is a good choice for anyone who regularly works with PDFs. Instead of being stuck with a PDF that you cannot easily edit, this app enables you to convert up to 500 pages per minute. Not only is this a helpful tool for businesses of all sizes but the speed of this app also makes it the clear choice for everyone who is tired of spending an exorbitant amount of time on the file conversion process.
3. TripIt
If you travel frequently for business, then you are well-aware of how cumbersome it can be to track everything from your flight and hotel bookings to last minute travel changes. TripIt offers a superior alternative to building a spreadsheet or creating a physical file because you can keep track of everything from the palm of your hand. As an added bonus, this app offers the ability to forward your itinerary to other individuals who need to be aware of your travel arrangements.
4. UberConference
Conference calls are a staple of the business world, but they can also be cumbersome and difficult to attend while you are on the road. The UberConference app simplifies the entire process by removing the need to enter a specific PIN or code to access each call. Users can also share their screen and instantly see who they are talking to. In other words, there will be no more time wasted on asking who is speaking or making sure that everyone is in attendance.
5. Pocket Analytics
Are you tired of tracking analytics from a wide variety of sources, including Google, Facebook and Stat Counter? Instead of visiting each site or app individually, you can import all of the necessary data into one resource. Pocket Analytics enables users to create their own dashboards so that they can see exactly what matters to them, and the app also makes it possible to mix and match metrics to get the best possible overview.
6. Invoice2Go
Anyone who sells items or services while they are away from the office is aware of how difficult it can be to properly track everything and send out accurate invoices in a timely manner. Instead of waiting until you get back to the office to create an invoice, you can turn to the Invoice2Go app to generate one on the spot. This is a time and money saving tool that also makes it easier to provide high quality customer service.
As you can see, each of the apps on this list are productivity boosters, which means they are more deserving of a space on your smartphone than time-wasters such as trivia games. Keeping your iPhone, Android or tablet well-organized and uncluttered is also a great way to make you more productive because it will always be easy to find exactly what you are looking for.
— This feed and its contents are the property of The Huffington Post, and use is subject to our terms. It may be used for personal consumption, but may not be distributed on a website.