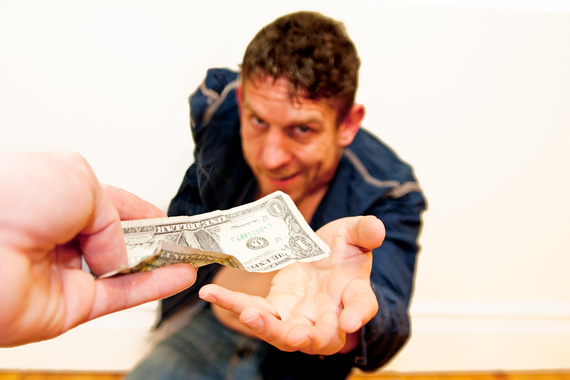 Image Credit: Flickr
One of life's dirty truths is that there are unfortunately a lot of liars and cheaters out there. If you try to keep your nose clean, you will undoubtedly encounter someone who's a little crooked. Maybe they're trying to scam others, or maybe they're trying to get ahead by bending the rules. These people can be tricky to deal with, but here are five tips to make things a bit easier:
1. Focus on The Positive People In Your Life
Because there are people out there who only care about themselves, you just might end up getting screwed over by one of these people. While that can be an extremely upsetting event, you shouldn't let it get to you. As I teach my students, life is way too short to spend it being bitter about someone who has wronged you in the past. If you stay stuck on that event, you'll never be able to move on and be productive. It's better to focus on the positive people and projects in your life and keep moving forward.
2. Honesty is the Best Policy
Despite what movies and TV want you to think, crooked people generally don't last long no matter what profession they're in. Most of them are usually caught at some point, and even if they aren't, chances are they have burned a lot of bridges because of their behavior. The truth is that you will go much further and garner a lot more respect in your life and career if you are transparent and honest at all times. My top student Tim Grittani is a perfect example of this — he turned $1,500 into $2.7 million in just three years, and made every trade he did publicly available. I can promise you he wouldn't have gathered the trust and respect he currently has from his followers if he hadn't been up front about how he was making his profits.
3. Don't Waste Time on People Who Won't Help You
Developing good and honest projects take a lot of time and effort. You simply cannot afford to waste your time on people who don't support your dreams (or worse, actually get in the way of your dreams). As soon as you encounter someone who doesn't support your vision, you need to drop them. Doesn't matter who it is either — if they're bringing you down, they've got to go.
4. Accept That Liars and Cheaters Exist, Warn Against Them
There always have been and always will be crooked people out there. Make peace with it. You can't change that, but what you can change is how many people these scammers dupe. You wouldn't want someone else that you care about to fall victim to one of these people, so you should do your best to warn people against them. When the film The Wolf of Wall Street came out and the person it was based on started getting press, I did my best to make sure people knew he was (and still is) up to no good. Liars and cheaters always try to make it look like they're the good guy, don't fall for it. Do your part to shed light on these people. Plus, the truth is…
5. There's More Money for Honest Players
The truth is that if you're honest and good at what you do, you'll make infinitely more profits than if you're constantly scheming about how to get more out of people. Those who make an honest living generate respect and have friends — real friends that will support them and help make their dreams come true. Going crooked means you'll probably lose many friends, burn many professional bridges, and potentially end up in jail. With so much money to be made legitimately, is it really worth scamming people? Yeah, I don't think so either.
— This feed and its contents are the property of The Huffington Post, and use is subject to our terms. It may be used for personal consumption, but may not be distributed on a website.