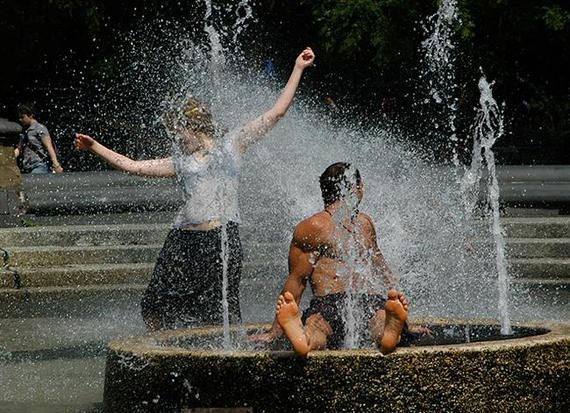 Fountains are a great way to escape the heat. Washington Square Park, photo courtesy of Jeff Pappas. Visit his
website
.
Manhattan has come a long way creating public spaces more aligned with nature and art. Old public places have undergone recent incarnations. Bryant Park now has a miniature golf course and a new wave of accordion pumping buskers. The Loeb Boathouse has reopened its ramp, allowing rowers to slide across its cool, algae bloom-infested waters. There are also a plethora of lesser known options. These include Parks and Rec land, squares and gardens managed by non-profits and privately owned public spaces (POPS) which developers create for public use in exchange for zoning breaks from the city.
The most recently headlined POPS was Zuccotti Park, which Occupy Wall Street protesters staked camping rights in due to its status as a public space. There are 501 more of these clandestine oasis' in the city and it isn't tough to find them. These range from a forlorn storefront space with shaky tables and a few pots of rotting Elephant Ears on West 67th to Trump Towers' black marble-clad concession at 527 Fifth Avenue. These are all 100 percent admission-free. You don't have to nurse a coffee or worry that your duct-taped clothes will get you sussed out. Unless you are wreaking considerable havoc, you won't be booted. Many have free wi-fi and plug-ins, good art and tropical plants, and can help you maintain balance in the sweaty, summer concrete jungle. For a complete map look here.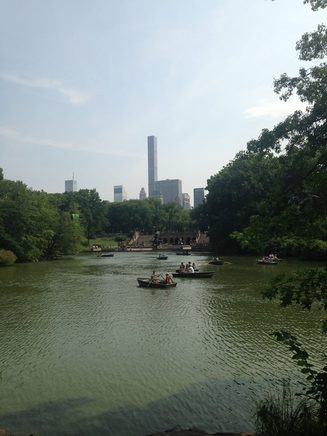 Central Parks' Loeb Boathouse on the East Side has reopened its ramp. Sit on the rocks and watch tourists row across the park's second largest lake.
5 Secret Public Spaces to Beat the Heat in Manhattan
1. Rubenstein Atrium (Broadway between 62nd and 63rd at Lincoln Center). The POPS at the atrium sports over 20 café tables, free wi-fi, plenty of computer outlets and a Witchcraft coffee/pastry stand. The ceilings are high, the air conditioning is delicious, and the floor-to-ceiling fountain cascades all day long. There are three long, decorative, sofa-shaped benches made of white stone that you can press your forehead to for a second to luxuriate in the cold. The best part about this spot: two vertical gardens/plant walls sporting pockets of everything from spider plants to staghorn ferns.
2. The West End of Union Square near Broadway has a new nook of largely shade bathed, public café tables set back from the street in the hollow between the park and the hawkers. Word to the wise: just before 6 p.m. Union Square caretakers from the Union Square Partnership swoop down from the wall of the park like superheroes and its closing time. You'll only have a few seconds to gather your belongings and join the NYU kids on the steps heckling the militant born again with his bullhorn and bible.
3) Liz Christy Garden (92 East Houston between Bowery and Second Avenue). The city's first community garden created in 1973 when the Lower East Side was deteriorating and buildings were being torn down. The garden is a lush urban oasis replete with wooden and wicker furniture, grape arbors, a 2.5-foot deep fish pond with smelt and red ear slider turtles, a dawn redwood tree and flowering perennials.
4) Fountains. Although not expressly marked public space, the temperature drops several degrees sitting on/near the ledge of one the city's fountains. If you sit close enough, you might be lucky enough to get splashed. A good technique is to follow a chain of fountains such as the one that begins at Columbus Circle and continues along Sixth Avenue to Rockefeller Center.
5) Winter Garden Atrium (220 Vesey Street. West of West Street). This massive space overlooking the NY harbor sports huge arched skylights, palm trees and is home to the Tribeca Film Festival.
— This feed and its contents are the property of The Huffington Post, and use is subject to our terms. It may be used for personal consumption, but may not be distributed on a website.